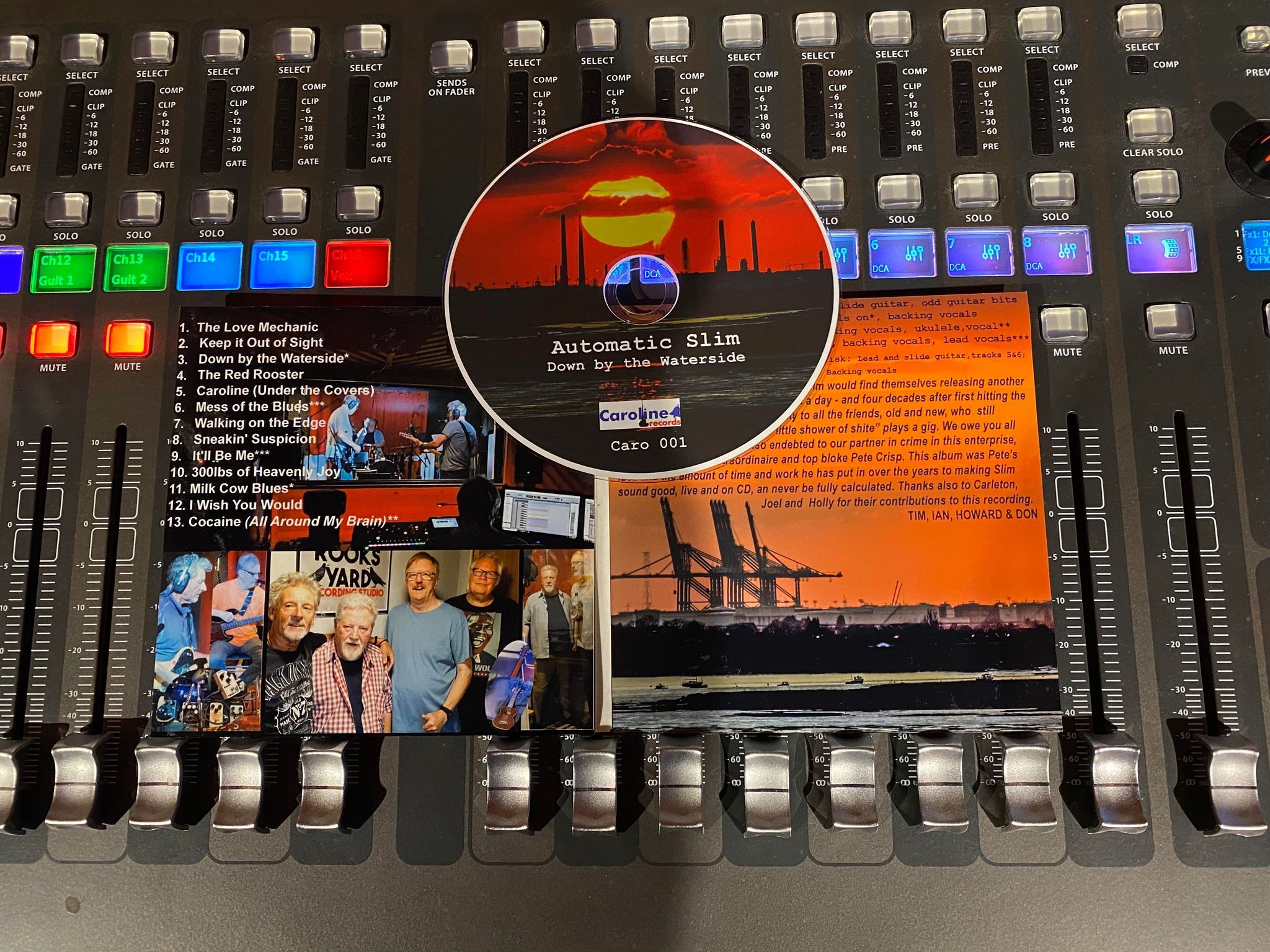 AUTOMATIC Slim are delighted this week finally to confirm the release of out first new album in two decades. 
"Down by the Waterside" Showcases a mixture of new original songs and r'n'b favourites we've been playing across our 40-year career and more than 3,500 live shows across the UK and occasionally into continental Europe. 
It's our first new recording since 2001's "Growing Old Disgracefully" and was mostly recorded at Rooks Yard Studio, in the Essex Delta, just before the first lockdown, then completed in the autumn of 2021.
The CD also features contributions by award-winning blues guitarist Joel Fisk (Hokie Joint/LaVendore Rogue/Tim Aves & WOLFPACK), piano player Carleton Van Selman (Mojo Preachers) and up-and-coming singer Holly Hallam. 
The 13 tracks on "Down by the Waterside" include new original songs, including "Caroline (Under the Covers)"  a tribute to the legendary radio station, several Dr Feelgood/Wilko Johnson favouties, plus the band's unique take on a number classic blues and rock'n'roll tunes. 
The CD will be available in hard-copy form for the first time at its official launch gig on Saturday, February 5, 2022, at Kelvedon Labour Club, Kelvedon, Essex (see the Gigs page for details|) and thereafter to order from our new merchandise page here. Downloads will also be available shortly from the usual platforms, while a limited-edition vinyl release is currently also being considered. 
"We're thrilled to bits with the way the album has turned out," said Tim. "Our last album was way back in 2001. That one's been out of print for years, so it's great to be getting our music out there again. 

"Our engineer mate Pete Crisp has done an amazing job at Rooks Yard Studio to make us sound this good - aided and abetted by a few excellent musical chums.
"There's been a LOT of interest in this project. It's amazing really that people still want to hear what we're doing after all these years." 
Album information 
Automatic Slim: Down by the Waterside 
(Radio Caroline Records Caro 001) 
Tim Aves - lead vocals, backing vocals, harmonica, slide guitar, odd guitar bits 
Ian Cundy - guitar, lead vocals on *, backing vocals 
Howard J Bills - bass guitar, backing vocals, ukulele, vocal** 
Don Moore - drums, various percussion, backing vocals, , lead vocals*** 

Guest musicians: 
Carleton Van Selman – keyboards 
Joel Fisk - lead guitar on Mess of the Blues and Caroline 
Holly Hallam - backing vocals 
Recorded and mixed by Pete Crisp at Rooks Yard Studio,  Essex, August 2019-October 2021. 
Track listing 
1. The Love Mechanic (Tim Aves) 
2. Keep it Out of Sight (Wilko Johnson) 
3. Down by the Waterside *(Wilko Johnson) 
4. The Red Rooster (Willie Dixon) 
5. Caroline (Under the Covers) (Tim Aves) 
6. Mess of the Blues*** (Doc Pomus/Mort Shuman) 
7. Walking on the Edge (Wilko Johnson) 
8. A Sneakin' Suspicion (Wilko Johnson) 
9. It'll Be Me*** (Cowboy Jack Clement) 
10. A 300lbs of Heavenly Joy (Willie Dixon) 
11. A Milk Cow Blues* (Kokomo Arnold) 
12. I Wish You Would (Billy Boy Arnold) 
13. Cocaine (All Around my Brain)**  (Rev Gary Davis)